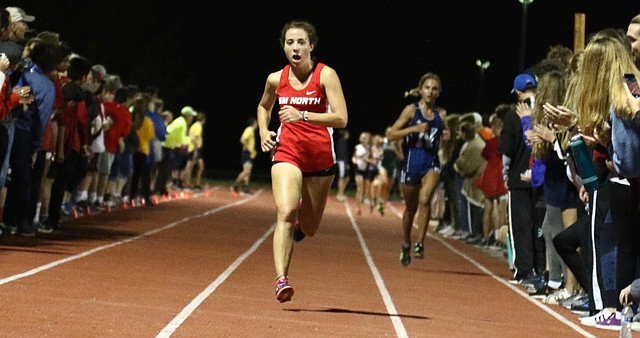 Shawnee Mission North senior Katie Kasunic approaches the finish line at the Olathe Twilight Meet on Saturday at the Olathe District Activity Center. Kasunic finished second with a time of 19:09.1.
Stories this photo appears in:

Shawnee Mission North senior cross country runners Katie Kasunic and Asher Molina earned top-three finishes at the Olathe Twilight meet on Saturday. Kasunic placed second with a time of 19:09.1. Molina took third after clocking in at 16:00. Logan Jiskra also medaled after taking 13th with a time of 16:53.2 to help the SM North boys finish third. With most of St. James' top runners competing at the Forest Park Festival in St. Louis, a few other SJA runners got the chance to compete in the varsity races at ODAC. Matthew Schneider paced the SJA boys with a time of 17:40.1, which was good for 48th place. Sammy Kopecky finished 89th for the SJA girls after posting a time of 23:00.3. Katie Moore (2nd, 20:49.6) and Jack Moore (5th, 17:22.9) led St. James in St. Louis.
September 10, 2018 10:07 a.m.